NEW REVOLUTION CHAMPION CROWNED! 2023 WILDKAT REVOLUTION RUMBLE RESULTS 11•18•2023
WildKat Sports & Entertainment returned to Metairie, Louisiana to celebrate twelve years of pro wrestling in Greater New Orleans! A historic night, WildKat's 12th anniversary concluded with a NEW Revolution Champion in Danny Flamingo!
Show Results:
■ Slime SZN win by Disqualification over FLY DEF; FLY DEF retain the WKS Tag Team Championship 
■ Suge Whyte defeats Edward King
■ Moonshine Mantell defeats Izzy James
■ Jace Valor wins the 2023 Revolution Rumble Match
■ Mickie Drama defeats GATO
■ Brady Pierce defeats PJ Hawx to retain the WKS Heavyweight Championship 
■ Danny Flamingo defeats Chuck Devine for the WKS Revolution Championship *TITLE CHANGE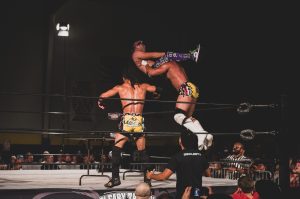 FLY DEF RETAIN AGAINST SLIME SZN
FLY DEF retained their championships against Slime SZN after Warren Johnson blatantly attacked J Spade with a chair to cause the disqualification. Post match, FLY DEF continued their assault, culminating in Zack Mason powerbombing Buku Dao through a table. Slime SZN had been scheduled to participate in the evening's Revolution Rumble Match later on, but we're not medically cleared due to this incident.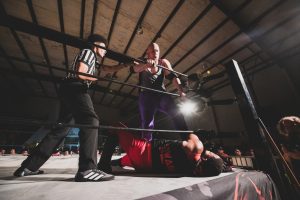 SUGE WHYTE DEFEATS EDWARD KING
Suge Whyte remains undefeated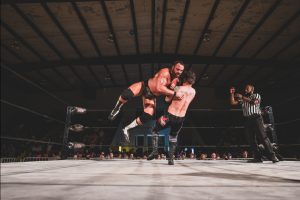 MOONSHINE MANTELL DEFEATS IZZY JAMES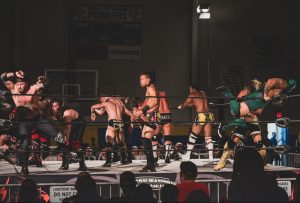 JACE VALOR WINS THE RUMBLE
2023 Revolution Rumble Entry Order:
01 Jace Valor
02 Nate Bradley
03 Dru Taylor
04 Billy Paradise
05 Chris Cruz
06 Purple Haze
07 Chaz Adams
08 Mickey Drama
09 Rob McKnight
10 Duke Roberts
11 Warren Johnson
12 Raza Rayleigh
13 Moonshine Mantell
14 Zack Mason
15 GATO
16 Izzy James
17 Suge Whyte
18 CAMUS
The Revolution Rumble saw several WildKat debuts: Moonshine Mantel, Izzy James, Raza Rayleigh, CAMUS, Duke Roberts (Actor seen on "HEELS")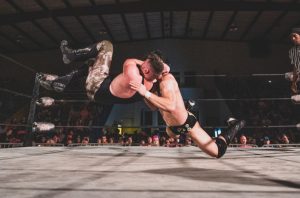 The first two entrants were "The Bullet" Jace Valor and "Mr. 5K" Nate Bradley. Poetically, it came down to Valor and Bradley in the end as well. The match ended in controversy as after Valor hit his cutter on Bradley and made the cover, Bradley got his foot on the rope, but the referee didn't see it. Valor was seen removing Bradley's leg after the three count to make sure the referee wouldn't see
Jace Valor's win in the 2023 Revolution Rumble marks his second Rumble victory; his first was in 2017.
Jace Valor also is the second person to enter the Rumble at #1 and go on to win, the first being Danny Flamingo in 2016.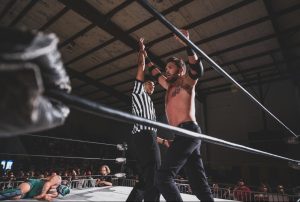 MICKEY DRAMA DEFEATS GATO IN SINGLES DEBUT
After Mickey Drama mocked beloved WildKat Head of Security Shorty by treating him as a "Mickey Wish Foundation" child, the Drama King was met by Shorty's older brother and WildKat competitor GATO. Mickey managed to get the victory in the impromptu match, finally making his singles debut for WildKat Sports.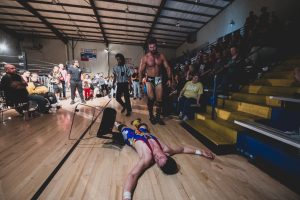 BRADY PIERCE RETAINS WILDKAT HEAVYWEIGHT CHAMPIONSHIP AGAINST PJ HAWX IN FALLS COUNT ANYWHERE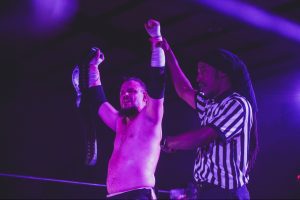 DANNY FLAMINGO DEFEATS CHUCK DEVINE TO BECOME THE NEW WILDKAT REVOLUTION CHAMPION
A violent and ppersonal content saw Devine focus on the injured ribs of Flamingo in what was for long periods almost a handicap match due to continued interference from Rob McKnight on the outside. Eventually the official would catch and eject McKnight from the contest, allowing Flamingo to hit the CDM on Devine to get the win!
Chuck Devine's loss marks his Revolution Championship reign at 512 days, the longest in WildKat Sports History
Danny Flamingo's Main event victory marks his second reign as WildKat Revolution Champion, his last reign ended in 2017
Post match, Devine and McKnight would assault Danny until new #1 contender Jace Valor would run in for the assist. After chasing off Devine and McKnight, Flamingo would go to pose whole Valor grabbed the Revolution Championship behind his back. Once Danny turned around, Valor presented the championship to Flamingo. Was there more to this? Was Valor poised in position to attack Flamingo and thought better, or is that nothing but conjecture? We'll stay tuned to the situation, but what isn't disputed is the NEW Revolution Champion: Danny Flamingo!